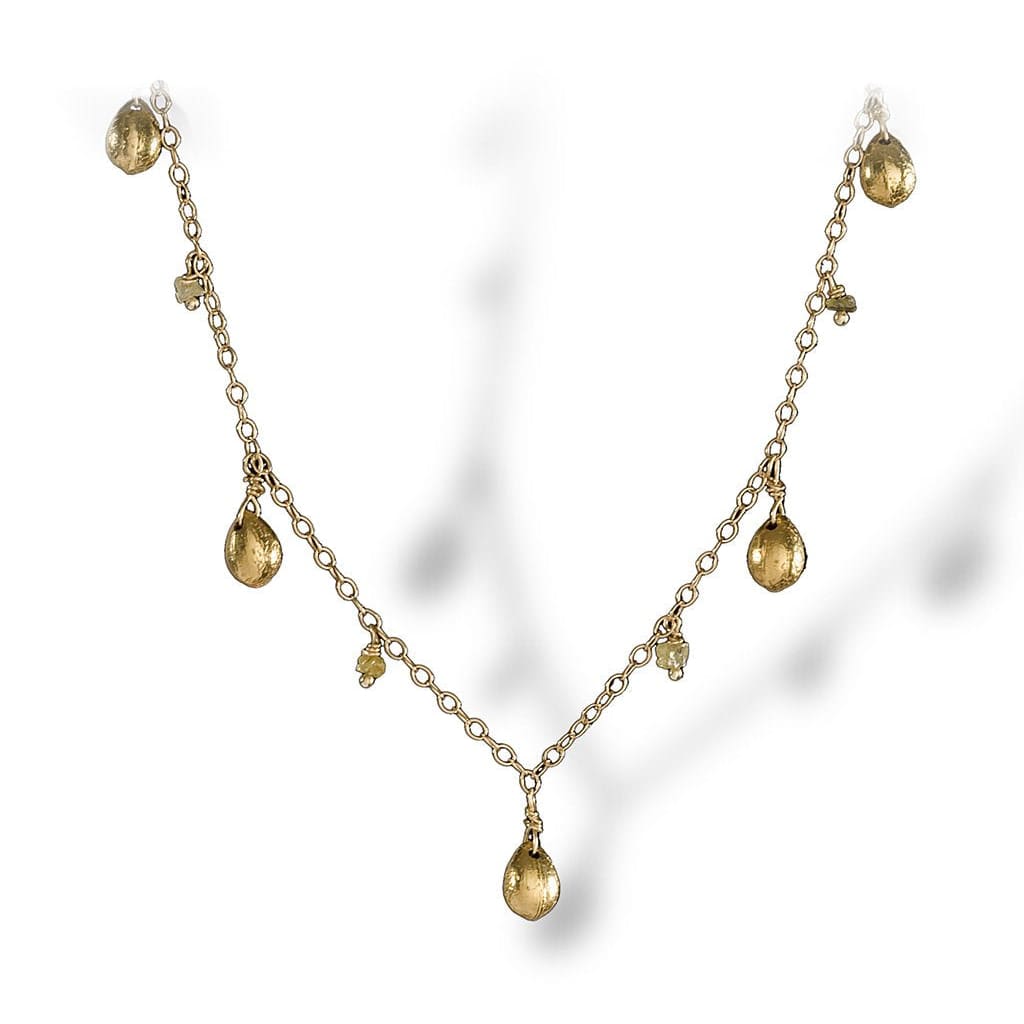 Ceres Treasures VI Teardrops Necklace
MV4NKc6
This product is made to order.
---
A dainty necklace of textured enriched 18K yellow fine gold teardrops with rough diamonds
Inspired by Ceres, the Roman goddess of the rich colors of the golden harvest. A drizzle of rich textured 18KY gold teardrop shapes comes also with tiny rough diamonds that dangle from a delicate sturdy gold chain. The perfect accent for a wardrobe that needs just a little more, but doesn't take it over the top.
ABOUT STONE: Diamonds in the rough are in their natural state and removed from the depths of the earth. They are a work in progress and prior to undergoing to polishing process.
PRODUCT DETAILS
Metal: 18k yellow gold teardrop shapes with 16-18" standard chain with rounded lobster clasp (solid gold).
Stone: Natural rough Diamonds: Approx. 1.12 carat
see color for length
FREE SHIPPING ON ORDERS OVER $500!
Please visit our sizing page to find detailed information that will guide you in discovering the perfect necklace length, ensuring a comfortable and ideal fit for your unique style and preferences.
Most pieces are 'Made to Order' with an approximate lead time of 2-3 weeks including shipping time. Click here for more information.
Most pieces are Made to Order with an approximate lead time of 2-3 weeks including shipping time.
Size chart
Our Made to Order and Custom rings can be sized to suit any finger.
Please confirm your size for accurate fit before purchasing.
Ring Sizing
The average size ring finger is a size 6. If you don't know your size, take your favorite ring that you like the fit and compare to the circle size chart below. After printing the chart, align your ring with one of the circles. Simply place your existing ring with the ring fitting against the matching circle. Certain sizes apply to certain sizes. Size availability will be noted by product.
Jewelry sizing is essential to ensure that custom rings can suit any finger. It is also important to learn about providing loving care for your fine jewelry pieces to ensure that their beauty will last a lifetime.
Wrist Sizing
When it comes to finding the perfect bracelet fit, understanding the size of your wrist is crucial. On average, a size 7" wrist is considered the standard or average size. However, if you're unsure about your wrist size, it is simple to determine the measurements. 
To begin, grab a measuring tape and gently loop it around the point just below your wrist bones. Ensure the tape is snug but not overly tight, and measure without any slack. It's essential to avoid applying too much pressure, as this can lead to inaccurate results. Take a moment to note the measurement once you have completed the loop.
To measure your wrist accurately, follow these steps:
Identify where you would like your bracelet to sit on your wrist, considering your personal style and comfort.

Wrap the measuring tape around that specific point, ensuring it encircles your wrist without any slack.

Take note of the measurement where the tape overlaps the zero end. This number reflects your wrist size.

To achieve an optimal fit, add approximately 0.5 inches (1.3 cm) to your initial measurement. This slight adjustment provides that extra room for ease of wear and flexibility. For instance, if your wrist measures 6 inches, selecting a bracelet size of 6.5 inches would be ideal.

 
If a fabric measuring tape isn't readily available, don't worry! You can use alternatives such as a thin piece of paper or a string to measure your wrist circumference. Once measured, use a ruler to determine the length accurately.
By following these simple steps, you can accurately determine your wrist size and select the perfect bracelet that offers comfort and style.
To better illustrate the best bracelet size for you, follow the guide below as a reference:
Necklace Lengths
 Average size for a neckline is between 16" for smaller necks and 18" for thicker necks and 20" for those that like it a bit longer. Smaller bone individuals usually fit in the 16" and larger frame women prefer an 18" or 20" depending on thickness of the neck.
Please contact us regarding any customization on lengths, ring sizes, metal, and stone option preferences.